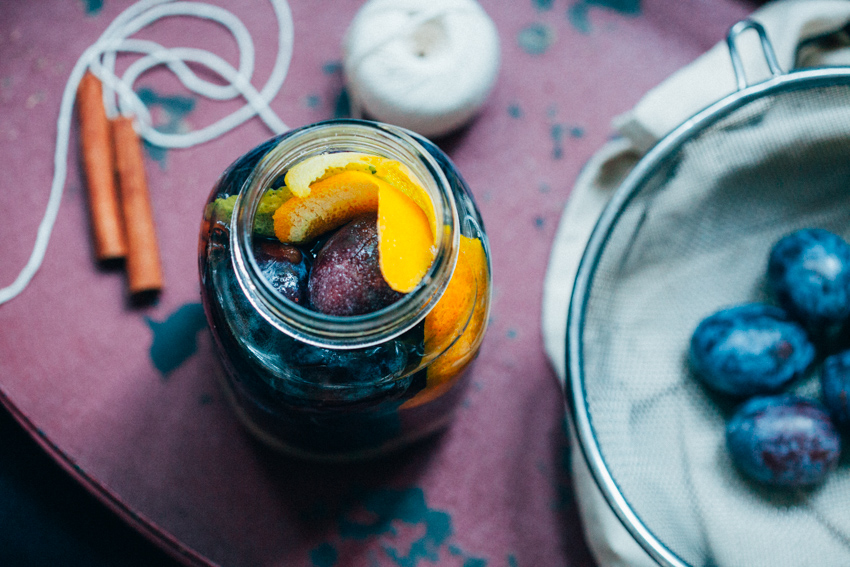 Healthy Happy Hour: Homemade Damson Just Plum Delicious Liqueur
Infusions are winning the popularity contest when it comes to being the hippest/eco-friendly/locally-focused/sustainable/cool things a person can eat or drink.
And rightfully so! The ultra-simple process of putting plant materials into water, oil, or alcohol and letting them hang out undisturbed for a while creates some beautifully rustic and luxurious eats and drinks.
The botanical compounds of the plant are extracted by the solvents, leaving behind a flavourful brew. The addition of sugar to this mix is what differentiates it from liquor. You see, a liqueur is, by definition, sweet. (A liquor is not.) If the quantity of sugar is scaring you off, remember that this fruitful blend is just a sipper, so a little bit goes a long way.
If sipping on something sweet, warming and full-bodied sounds right up your alley this fall, this plumb-y drink is the perfect fit. Plums are uniquely high in the antioxidants neo chlorogenic and chlorogenic acid, which help prevent damage to the fats that make up our cell membranes and brain cells. In other words, it's booze plus.
And because it's never too early to start thinking about the holidays, this sip makes a thoughtful gift.
Ingredients 
1.5 pounds damson plums

3/4 cups organic sugar

1 3-inch 

cinnamon

 stick

1 2-inch piece lemon peel

1 2-inch piece orange peel

2 peppercorns

1 clove

1.5 cups vodka (give or take), plus more as needed
Directions
Pierce the fruit 3 or 4 times with a sharp paring knife, being careful not to bruise the fruit.

Pack the pierced plums into a large jar or two and add the remaining ingredients. Pour in the vodka, enough to cover the plums, and put a lid on the jar.

Turn the jar every day for 2 weeks so that the settled sugar gets consistently redistributed. After about 2 weeks, the sugar should dissolve. Place the jar in a dark space and leave it undisturbed for 3 months. Strain the liqueur through a fine coffee filter and transfer it to a glass bottle or jar. Store in the freezer and serve cold for best of the best flavour.