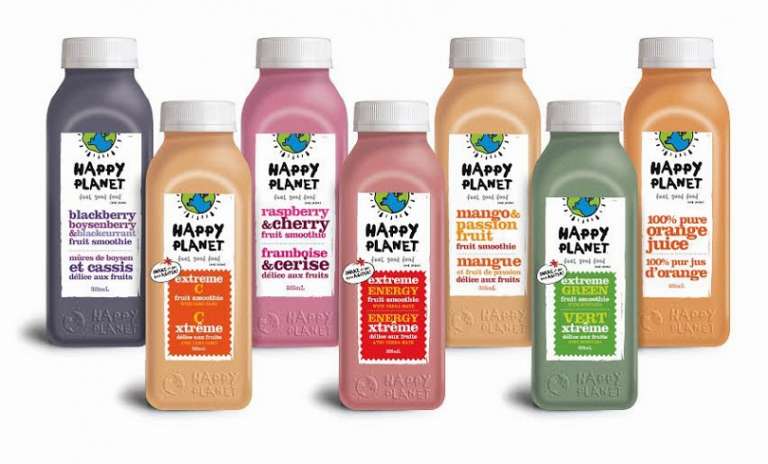 Why We Dig Happy Planet Juices & Smoothies
There's no denying that smoothies make people happy. But finding one that makes the planet happy too will have you grinning ear-to-ear.
Happy Planet, the all-natural BC-based juice and smoothie company, have been crafting up mouth-watering, healthy juices and smoothies since 1994 (time is on their side).
From using local ingredients whenever possible in their fruity concoctions to giving back to the community around them with their initiative "Grow for Good", to using BPA free packaging, these guys are definitely doing their part to have the planet grinning from east to west.
But planet happiness is just one reason we're digging 'em. Their mouth-watering smoothies are so jam packed with fruit, no room is left for preservatives or added sugars or sweeteners that often come with pre-made smoothies. With a creamy smooth texture and a flavour that's not overly sweet, these blended babies are a great choice for those looking for a quick grab-and-go refuel.
Need a hit of energy or a dose of green? Their "extreme" line has you covered with added boosts like Extreme C (with Vitamin C for when you feel a lil' something coming on), Extreme Energy (with yerba mate for a natural pick me up), and Extreme Green (with a potent blend of green superfoods like chlorella, spirulina, alfalfa, and stinging nettle).
They even have you covered post sweat-session with a heavenly chocolate/banana treat that contains 10 grams of protein to recharge hardworking muscles.
They've also just launched a 100% organic, not from concentrate lemonade and raspberry lemonade that keeps true to everything else these guys do – no preservatives, no artificial ingredients – just lemons, water and sugar; the way lemonade should be. Sip all summer long into fall, no one's judging.
Happy smoothies make for happy people, and happy people make for a happy planet.
Who knew so much could come from a bottle of blended fruit?
Happy Planet smoothies and juices can be found at most major grocery stores and natural health stores across the country.