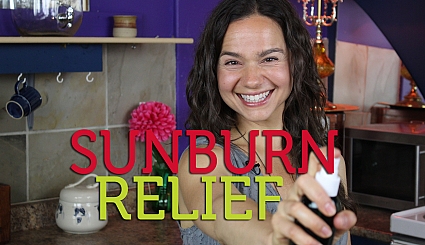 How to Make Your Own Nourishing After Sun Spray
We love the sun – sometimes a little too much. Luckily, natural sunburn relief is as easy as mix, chill, spritz.
Kathrin Brunner from For the Love of Body is back to show us a super easy recipe for an all-natural after-sun spray. It's perfect for cooling off after a hot day in the sun or treating an itchy, painful, sunburn.
For this DIY project, you'll need steeped and cooled chamomile tea, alcohol-free witch hazel, aloe vera juice (be sure it's natural and doesn't have sugar or flavours added) rose water (again, not perfumed water but actual rose water) and a glass or BPA-free spray bottle.
Put this DIY project on your list of things to do this week because having it ready and waiting in the fridge is just perfect for those emergency 'I can't believe how much sun I got' days (they happen) and even after a sweaty summer workout. The spray will store in your fridge all summer long (up to six months) so relief will always be chilled and ready to go.
Your skin will thank you because not only is it soothing, it's free of nasty toxins or hormone-disrupting chemicals that store-bought products may contain.
If you can't find the ingredients at your local health food store, Kathrin suggests you try one of these online retailers: newdirectionsaromatics.ca, saffireblue.ca or mountainroseherbs.com.
If you can only find large volumes of ingredients, why not invite some friends over and whip up a group batch before heading out for a picnic in the park? Everyone'll feel refreshed and smell great.
And never, ever miss out on our healthy living videos by subscribing to our YouTube channel. This video was shot at Loft 404 in Toronto – thanks for hosting us!