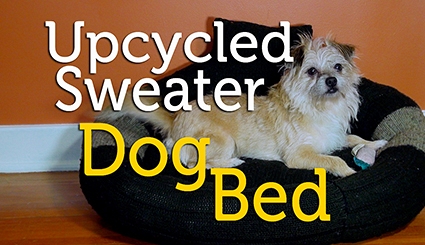 How to Upcycle an Old Sweater into a Cozy Dog Bed
Log some serious snuggle time even when you're not around. With this easy DIY dog bed, your dog or cat will feel like you're hugging them all night long. Here's how to upcycle an old sweater and some pillows into a cute dog bed or cat bed.
This super simple DIY project requires a large eye wool needle, some yarn for sewing with, an old sweater that your dog or cat would love to snuggle up to (smells like you) and one or two old pillows (depending on the size of your sweater and thickness of your old pillows). Oh, and a very basic (and we mean basic) understanding of hand stitching.
In this video, we show you how to take a medium men's sweater, stitch it and stuff it (with two flat pillows) to make a comfy & cozy bed for Gepetto, our favourite lap dog. Ever since he got this bed, he's curled up in it every night and has the sweetest dreams!